This post has been seen 1267 times.
Do you really need a diesel to save fuel in this day and age? Audi thinks not, with the A3 Cylinder on Demand sedan. Paul Maric jumps behind the wheel to find out whether fuel use comes at the cost of driveability.
There's a lot to like about the concept of a sedan in a smaller body format – especially one fitted with an efficient petrol engine and classy interior. That's where the small, but big 2017 Audi A3 CoD sedan comes into play. It hits the mark for nimbleness, but also plays to the strengths of a traditional sedan format.
The refreshed Audi A3 range kicks off at $35,900 (plus on-road costs) for the entry-level A3 TFSI Sportback with a 1.0-litre, three-cylinder petrol engine, with the range extending all the way up to the manic $78,616 (plus on-road costs) RS3.
Featuring Cylinder on Demand (CoD) technology, the A3 TFSI CoD straddles the line between the efficiency of the entry-level 1.0-litre and the power on tap from its turbocharged 1.4-litre four-cylinder petrol engine. It hits the ground running with a $39,900 (plus on-road costs) starting price for the Sportback, with the sedan demanding an extra $1600 asking price at $41,500 (plus on-road costs).
CoD technology allows the A3 to shut down up to two cylinders during off-throttle and low-load conditions to help save on fuel use. It's so effective. it consumes just 4.9L/100km on the combined cycle. Also helping push fuel use down is the use of a seven-speed dual-clutch automatic transmission that drives the front wheels.
From the outside, the A3 sedan – especially when finished in the Cosmos Blue colour of our test car – looks a treat. At first glance, this thing looks like it's worth a lot more than its sub-$50k asking price. That's amplified even further when kitted out with the S Line exterior package that adds chrome highlights and a body kit, asking only $2390 for the privilege.
An additional $2400 also nets you the Style Package, as fitted to our test vehicle. 18-inch alloy wheels, LED headlights and sports suspension rounds out that offering.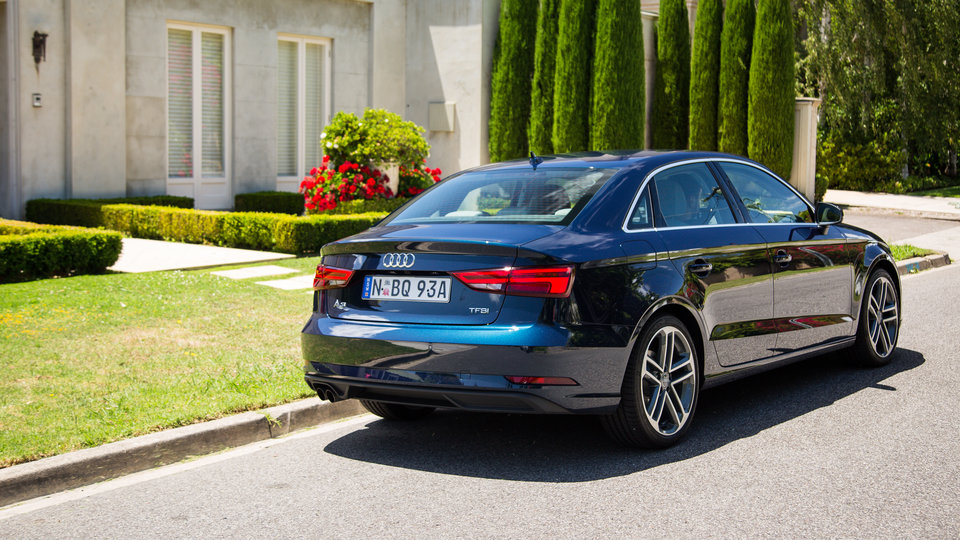 The A3 sedan's proportions work particularly well and give the car a premium feeling when passed in traffic. Discreet badging also means nobody needs to know you haven't spent big on the more expensive 2.0-litre version.
It's the same story inside the cabin where quality and feel has been stepped up big time in comparison to its peers. The Mercedes-Benz A-Class feels a generation behind in this company thanks to sweeping clean lines and high-quality details like metallic air vents, a retracting slimline infotainment screen and LED interior lighting elements.
The addition of the Technik Package to our test car adds Audi's impressive Virtual Cockpit full-LCD driver display, a sports steering wheel and a navigation system with full functionality. Virtual Cockpit steps the game even further forward with technology that was only available until recently on TT, R8 and A4, and all for just $2900.
There's a lot to like about Audi's latest infotainment system. It uses a central knob with shortcut buttons to access various parts of the infotainment menus. An excellent voice recognition system also allows the full entry of navigation addresses and dialling of contacts with ease. It also comes with Apple CarPlay and Android Auto, which further enhances functionality.
Comments
comments