This post has been seen 2048 times.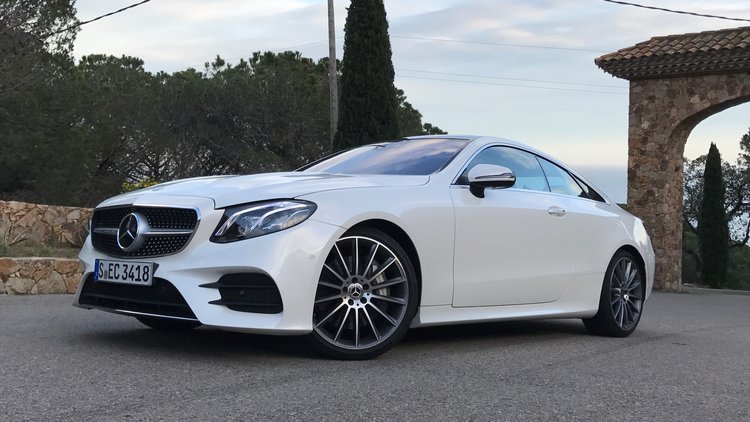 Naturally, the E300 is less fun, but with 180kW and 370Nm it's not exactly lacking. Especially given its significant weight advantage over its more powerful sibling. This time, Sport and Sport + become the favoured drive modes.
It's not exactly slow, either. Mercedes-Benz claims it will go from 0-100km/h in a brisk 6.4 seconds, while top speed is the same as the E 400 Coupe. The advantage comes from under the bonnet – the turbo-four weighs a lot less than the V6, so turn-in is even sharper.
Drivers can toggle through various drive modes, too, including Comfort, Eco, Sport, Sport+, as well as an individual setting. The response times for the change in mode are instantaneous, so like us, you'll find yourself cycling through the settings multiple times on different roads.
We found the Comfort setting perfect for anything other than when we had a good crack on the never-ending twisty-sections above the seaside area of Girona. For these roads, you want a sharper throttle response and a slightly firmer suspension setting. It helps keep the car flat in the bends. Not that the car ever leans, much.
The E-Class' air suspension system is seemingly able to deal up any level of bump, and the ride can only ever be described comfortable, even over rougher surfaces (in comfort). Switch to Sport mode, and immediately firm's things up, but even then, there's still plenty of travel in the dampers.
Handling and body control is exceptional for car in this class. Even in the really tight stuff, travelling at a fair lick, the E400 is a joy to pedal enthusiastically. It still feels like a large car, but the steering, balance and chassis control means you can have some real fun.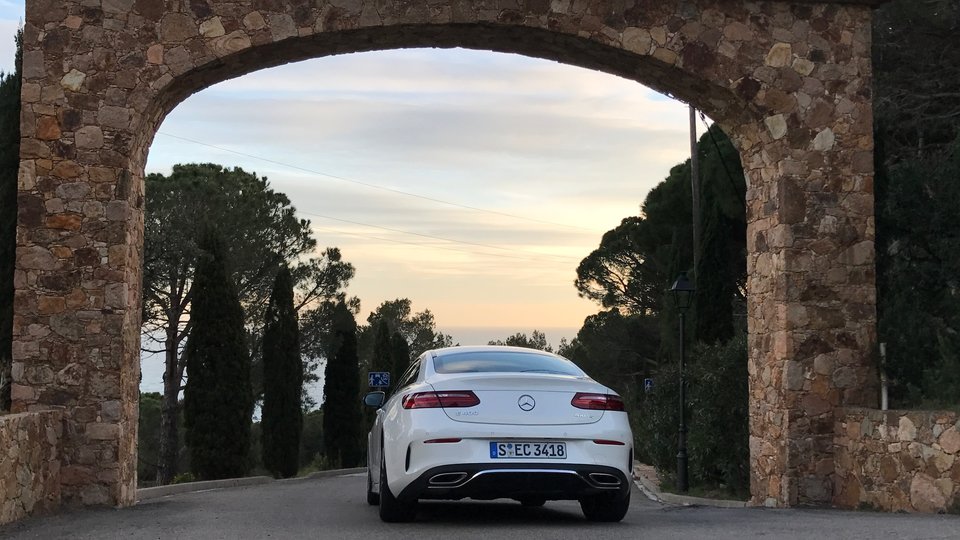 The all-electric steering is quick and precise. It's also relatively light at normal speeds, but weights up nicely whenever you lean on it. It's also deceptively quick changing direction, too, providing a big confidence boost. I'm truly surprised at how much fun we had in this big coupe on such tight, twisty roads.
Coupes this big aren't supposed to do this, at least not without an AMG badge.
It comes down to the car's level of exceptional agility, though I'm certain the low-profile Pirelli P Zero tyres had a lot to do with keeping the Benz so poised. Even when pressed, it was difficult to induce tyre squeal, no matter how sharp you cared to turn the car in.
Of course, the real acid test will come when the car arrives in Australia and we treat it to a good ol' Aussie B-road bashing. But I have a strong feeling the all-new Mercedes-Benz E-Class Coupe will perform at the same high level as it did in Spain.
And even if you're not the slightest bit interested in proving its dynamic talents (and it's got stacks), it's got plenty going for it in the design department. This is truly a world class effort by Mercedes-Benz.
Comments
comments