This post has been seen 2004 times.
The radical KTM-X-Bow is finally ready for road registration in Australia. With no roof, no screen, no ABS and no traction control, it's a raw driving experience in the purest form.
If you approach the 2017 KTM X-Bow R thinking it's going to be a motorcycle-like riding experience, your experience will be a lot further from that assumption than you might think.
It was my privilege to take a closer look at why this incredible engineering work of art is both so distinct from any other four-wheeled experience, but also so approachable, so much fun, and so addictive.
The X-Bow has been around for some time now, but it's taken Simply Sports Cars (our regional Lotus importers) most of a decade to get to the point where it has – almost miraculously – been passed for ADR approval. That means it is road legal for registration in Australia.
You don't need to wear a helmet, either – although you might want to if you're firing down the motorway in the rain. More on that in a few minutes.
On the subject of firing… We've all seen footage of X-Bows hammering around European tracks at warp speed, so we know how fast and capable they are in the right hands. With the announcement that the X-Bow is road legal for Australia, though, we decided to spend time with it on the street. After all, that's where we spend nearly all our time with our vehicles, even when we have one that is focused toward track work.
From any angle, the X-Bow is a purposeful, but attractive realisation of a hard-nosed engineering principle. It's where that motorcycle thinking is most visible. Not hampered by safety structures, airbags, infotainment and cabin ergonomics, motorcycle manufacturers can focus on a single objective – going as fast as possible.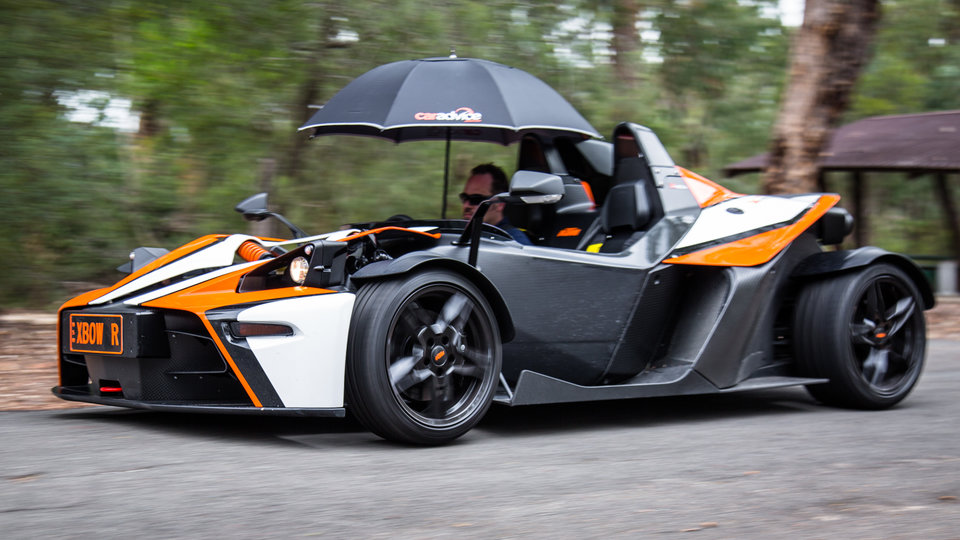 There's raw carbon-fibre, scant conventional bodywork to speak of, visible engine and suspension components, and little else. The X-Bow could have looked ugly such is it's prioritisation of form over function, but it isn't. Not even remotely. Whenever we stopped, we were swamped with camera-phone wielding fans.
The punters loved it for its points of difference, but most commented on how good it looked from any angle.
My favourite design element is the exposed front suspension, which you can see working while you're driving, but it also makes it much easier to adjust when you do head to the track. For the record, the guys at Simply Sports Cars set the X-Bow up at its softest setting for our road drive.
There's only one specification available, but as Rob Margeit covered at launch, there's a huge list of extras that can be added to make the X-Bow even more capable. At Eastern Creek, where we experienced the track drive, there was a fettled X-Bow with more than double the amount of downforce. Yes please…
The numbers alone make for impressive reading, so a quick recap first. The 2.0-litre turbocharged Audi engine is mated to a conventional six-speed manual transmission. There's no power assistance for anything – brakes, clutch or steering, but weighing in at only 790kg before I slow it down, there's not a pressing need for artificial assistance. Drive goes to the rear wheels, and there's no ABS or traction control either.
The four-cylinder punches out 220kW at 6300rpm and 400Nm at 3300rpm and will propel the X-Bow from 0-100km/h in 3.9 seconds. What that means in reality, is a power-to-weight ratio better than anything on the road, and more akin to a motorcycle or race car than a conventional vehicle as we know it.
Comments
comments