This post has been seen 833 times.
This is the 2017 Mercedes-AMG GT C Roadster. The big question: Has lopping the roof off AMG's GT halo car robbed it of its monster performance credentials and visceral pleasures? Curt heads to Arizona to find out.
Forget preconceptions about soft-top options for those who style hair. If you're shopping for maximum sensor assault with the tri-star badge on the grille, nothing quite tops the 2017 Mercedes-AMG GT C Roadster, the rag-topped twin to Affalterbach's shiniest halo car, the GT R coupe.
But wait, there's more… if perhaps slightly less. AMG has also released a 'regular' 2017 Mercedes-AMG GT Roadster, no 'C' attached, lining up with the entry GT coupe, bolstering the flagship super sportcar range to five variants, if you factor in the mid-spec GT S hardtop. Softer, then, if promising a harder experience at a slightly more budget-friendly tier.
Both the GT and GT C Roadsters are due in Oz around September this year, and while Mercedes-Benz Australia won't divulge the final local pricing, a fairly clear crystal ball puts the entry GT a little under $300k while the GT C will likely land around the $350k mark.
But as an introduction to the open-topped delights on offer, we got to blast the pair's sensory excesses under the blue skies and on scorched earth of the highways and byways in Arizona, Yoo-Ess-Aye.
That the Roadster pair pillage the parallel parts bins of their respective coupes isn't any great surprise, though there is one crucial reason as to why the king of Benz soft-tops is a 'C' and not an 'R' designation.
The now familiar 4.0-litre biturbo V8 heartbeat of choice used throughout a number of high-line AMG models gets a 410kW tune in the GT C. That's 60kW beyond the 350kW GT trim and some 35kW higher than the 375kW GT S, if 20kW short on the humongous 430 figure wrenched from the mighty GT R coupe.
So while the GT C Roadster is well off the leash, it's not completely so. And perhaps for the sake of that industry buzz phrase 'model positioning,' in an effort to maintain the GT R's status as king of AMG's lofty performance heap.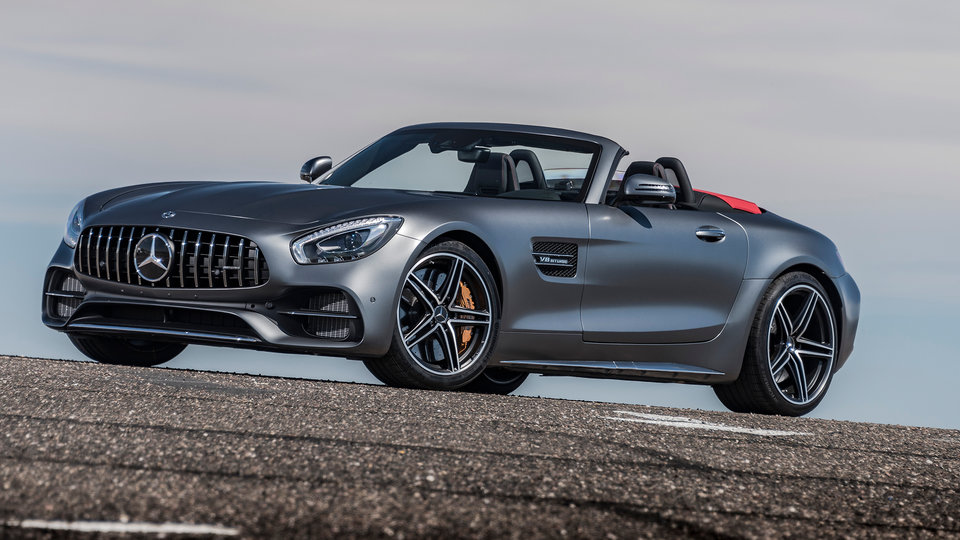 Academic differences? While the GT and GT C engines, with their direct fuel injection and 'hot inside vee' turbocharger arrangement, are largely identical, the GT produces 350kW at 6000rpm, while the GT C's 410kW clocks on lower at 5750rpm and holds course until a much higher 6750rpm.
The GT C not only has a larger 680Nm torque swing than the 630Nm GT, with a 1900-5750rpm spread it's a little broader and higher in the rpm range than the base Roadster's 1700-5000rpm. Result? The GT C takes the GT's 4.0sec 0-100km/h time a lobs a hefty 0.3sec off, which is quite some margin this low in the stopwatch stakes, arguably a fair trade for a slight penalty in thirst (a combined cycle 11.4L versus 9.4L per 100 kilometres claimed).
There's more to that 0.3sec advantage than merely extra outputs. The 'C' spec seven-speed dual-clutch transmission gets a taller first and shorter seventh and final drive ratios than the GT's transmission. Meanwhile, up-shifts are quicker in its exclusive Race mode, an electronically controlled (mechanical) LSD is fitted in lieu of the GT's passive mechanical unit, there's wider rear rubber (305mm against 295mm) and active rear axle steering is said to improve high-speed stability through to 316km/h, where the GT is capped at a mere 302.
Other differences? The GT C gets staggered wheel diameters (19s up front, 20s in rear) and also broader front rubber (265mm v 255mm), together with a wider rear wheel track and larger rear bodywork to make it all fit. Result? The GT C shares the same body width as the GT R coupe, some added 57mm in the hips compared with the slimmer GT. Brakes, too, are larger: 390mm front rotors compared with 360mm on lesser variants, though rears are a common 360mm on both rag-tops.
Comments
comments