This post has been seen 1968 times.
The world's most beautiful, romantic and amazing tunnels made of beautiful flowering trees. Trees, the longest-living organisms on Earth, beautify and defend the environment by providing color, shelter, and shade. They renew our air provide by absorbing greenhouse emission and manufacturing element. There's nothing more enchanting than strolling through a tree lined pathway with the light spilling through the branches. When the tree branches bend over to form a natural tunnel then the sensation is all the more romantic and sometimes even a little eerie. There are several of these green tunnels all over the world and below is a selection of top 10 most amazing tree tunnels, you should definitely take a walk through.
Top 10 Most Amazing Tree Tunnels.
1. Wisteria Tunnel, Japan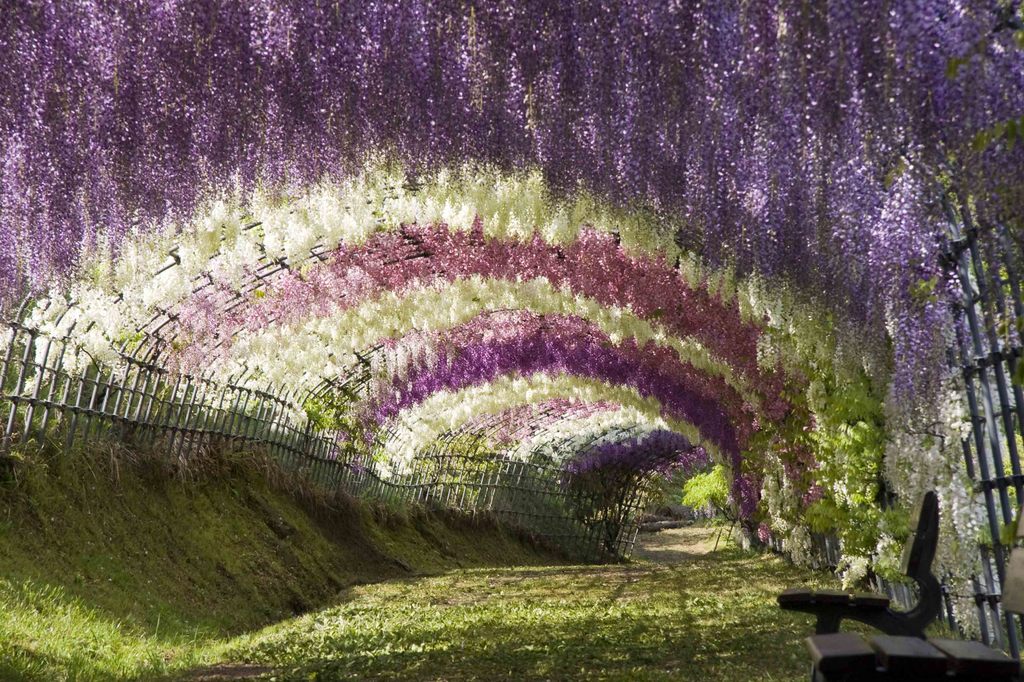 This stunning flower walkway is the known as the Wisteria Tunnel, situated in the Kawachi Fuji Garden. It really looks so peaceful to take a stroll through. The Wisteria Tunnel, which is part of a breathtaking display of botanical delights that include zen gardens and a cherry blossom festival, is located at the Kawachi Fuji Gardens in Kitakyushu. Different types and colors of wisteria have been woven through a cylindrical lattice that during the blooming months of April through May, become a fantastical flower-draped tunnel during the yearly "fuji matsuri", or "Wisteria Festival".
2. Tunnel of Love, Ukraine
The Tunnel of Love is a unique and truly amazing piece of forest located in Ukraine, used to be just another train rail section, but eventually turned into one of the most romantic spots on Earth. As trees were left to grow freely around the rails, the passing train was the only thing shaping its way through. Eventually, by crossing the Kleven village forest back and forth three times a day, the train shaped a closed tunnel according to it's size.
3. Jacarandas Walk, Johannesburg
Over 10 million trees keep South Africa's largest city green. According to several unofficial sources, Johannesburg is home to the world's largest man-made forest. There are at least 49 species of Jacaranda, most of them native to South America, and the Caribbean basin. The tropical trees were imported to South Africa over one hundred years ago. October is the month when the flowers of thousands of Jacaranda trees are in full blossom. This spectacular tree tunnel is located either in Johannesburg or Pretoria, the Jacaranda City where 70,000+ Jacarandas add vivid splashes of purple-blue to the urban landscape.
4. Yew Tunnel, UK
The Yew Tunnel is thought to have been planted by the Dyer family during the eighteenth century, and it is possibly unique in the U.K. When they had grown tall they were bent over to form an extended arch. Their trunks have spread and their branches have fused so that today it is hard to count how many separate trees commingle in the vast mass of this venerable growing gallery.
5. Autumn Tree Tunnel, USA
The simply astonishing tree tunnel. The Autumn Tree Tunnel Located in Vermont, USA.
6. Ginkgo Tree Tunnel, Japan
Ginkgo Tree Tunnel is covered with Ginkgo Biloba trees. It is a highly revered tree ofJapanese culture because this tree is known to survive long years. If you visit Japan, you will spot more than 65,000 Ginkgo trees growing on the streets, gardens or parks. Ginkgo tree tunnel is located in the outer garden of Meiji Shrine. Record says that during the bombing of Hiroshima, six Ginkgo trees survived, when other trees and living organisms died so badly. Those trees are still alive and many people come here to visit them. They wonder how these trees face challenges everyday and still endure. The Japanese look upon these trees as the 'bearer of hope' or 'the survivor' or 'the living fossil'.
Comments
comments