This post has been seen 4527 times.
The kingdom of media has becoming a piping hot industry as a career option. A lot of youngsters are starting to consider this as a permanent career option. Not only because the whole nation stick to the TV to remain updated on various news feed around the world, but there is also a huge touch of glamour being added to spice things up. There is a great number of hottest women news anchors in the world, but this article focuses only on the glamour of India. Just like the glamorous world of Bollywood, the risky and bold field journalism is home to some of the most stunning beauties. We've rounded up the 10 'Glamorous News Anchors' in India right now.
Who are the most glamorous news anchors on Indian television? Have a look:
10. Sagarika Ghose | News Anchor on CNN-IBN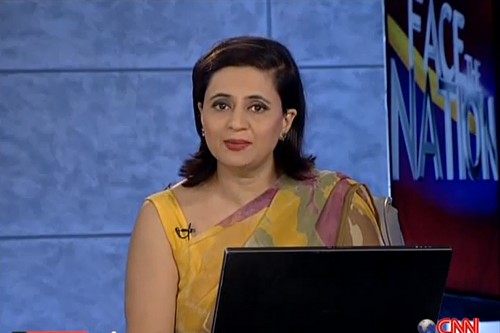 Sagarika Ghose has been a journalist since 1991 and has worked at The Times Of India, Outlook magazine and The Indian Express. She is the deputy editor and a prime time anchor on the news network CNN-IBN. She has won several Indian awards in journalism. She was awarded the Gr8-ITA award for Excellence in Journalism in 2009 and in the year 2006 she received an Excellence in Journalism Award from the FICCI. In 2013, she received the NT Award for Best Public Debate Show. Ghose happens to be the first woman who got the chance to anchor the popular BBC show Question Time India.
Ghose received her bachelor's degree in History from St. Stephen's College, Delhi. She has a Bachelor's in Modern History from Magdalen College and an M.Phil. from St Antony's College, Oxford. Apart from being a successful journalist, she also carries a great passion towards writing. She is the author of two novels, The Gin Drinkers, published in 1998 and her second novel Blind Faith was published in 2006 by Harper Collins.
9. Shaili Chopra | Tehelka, ET Now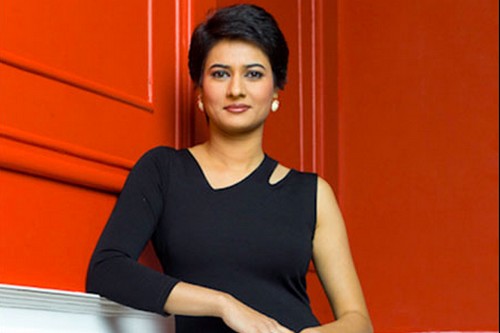 A familiar face on TV, Shaili Chopra is an award-winning business news anchor with nearly twelve years of experience in television anchoring, reporting and writing columns. She is the Business Editor for Tehelka, writes a popular golf column 'Tee Off With Shaili Chopra' for the DNA. Until September 2012, Shaili was the Senior Editor and Lead Female Anchor at ET Now, the Economic Times Business News Channel.
Shaili anchored the primetime shows and interviewed the likes of Warren Buffett, George Soros, Anshu Jain, P Chidambaram, Christine Lagarde and many others. She has also covered the Mumbai terror attacks live from outside the Taj Mahal Hotel.
8. Anjana Om Kashyap | Aaj Tak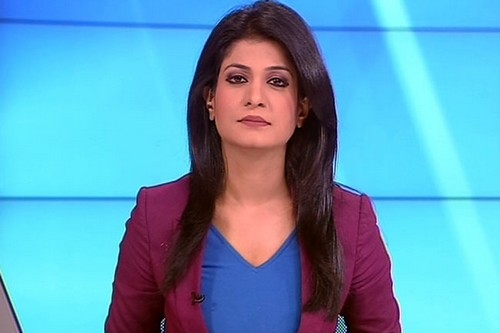 Anjana Om Kashyap, the Aaj Tak news anchor and author. She is the Deputy Editor of Aaj Tak. She was also a prime-time anchor and Deputy Executive Producer at News 24, a Hindi news channel. Anjana started her journalism career in 2003 by joining Zee News for a desk job. She worked in Zee for about five years before joining News 24 in 2007. In 2012, she joined Aaj Tak as AEP. Her special coverage of the 16 December gang rape made headlines. She regularly hosts a debate show, Halla Bol on Aaj Tak.
7. Archana Vijaya | Channel [V]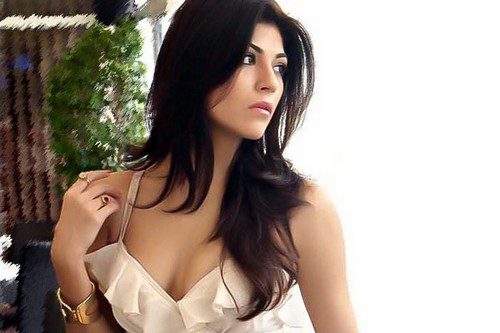 Archana Vijaya, from Kolkata, is a television presenter, model and video jockey for Channel V in India. She began her career after she won the 1st Supermodel/Reality TV show Get Gorgeous season 1‐in India by Channel [V]. In 2005, she host Gorgeous season 2, the very same contest she had won in the first season. She is one of the most sought after television hosts in India. She has done shows of various genres such as Travel, (Freedom Express 1 and 2), Bollywood (BOLLY [V]), Music (Junglee Jukebox) Glamour/Gossip(EBUZZ for AXN ASIA), Reality (Get Gorgeous season 2 and Sunsilk Bindass Blue Carpet (UTV BINDASS). Archana is the first to start the trend of Cricketainment with shows such as Tour Diary,Cricket Tadka Maarke etc, which have made her one of the most popular faces in Cricket Broadcasting. She also present the Indian Premier League, the biggest sporting extravaganza on Indian television, for Set Max, in 2011.
Comments
comments